Remembering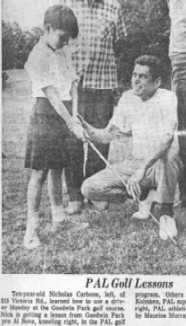 My Aunt Lucille sent me a clipping from the Hartford Courant that she had saved for 34 years. It's a picture of me when I was ten, getting a golf lesson from the golf pro at Goodwin Park, a municipal golf course in Hartford, CT, where I grew up. The year was 1969; the lessons were sponsored by the Police Atheletic League (PAL). Victoria Rd., where we lived, was the last street in Hartford before you entered Whethersfield, if you walked west, the street lead into Goodwin Park. If you entered the park there was a skating pond, with an ice-house, a picnic pavillion just near it, and then just beyond the picnic pavillion, a path to the club house of the golf course. Goodwin park has two courses, an 18 hole course and a nine hole hacker's course -- mostly flat and straight, the hacker's course, with no water and I think no sand traps, but I can't remember for sure.
The path to the club house wasn't marked really, but essentially one walked up between the 18th hole of the 18 hole course and the 1st hole of the nine hole course.
And that's what I did that summer, I'd walk up Victoria Rd., past the pond, through the picnic grounds, between the fairways of holes 18 and 1, and get a golf lesson. For a few years after that, until I started high school, I played golf almost every day in the summer, nine holes in the morning and nine in the afternoon on many days. It was only 50 cents a round for city residents.
I played most often with a kid from the neighborhood named Brian Sherry. One of Brian's arms ended about where his elbow would've been -- a birth defect -- but he played all kinds of sports -- golf, football, baseball. In baseball he'd gotten real good as a fielder and could quickly snag a ball, tuck his glove under his short arm, pull his hand out of the glove and get the ball to the infield. In football he often quarter backed, and in golf we swung away.
I think those summers, between when I was 10 and 13, were some of the most idyllic I've yet lived.